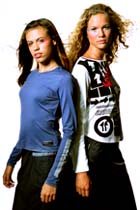 Coast2Coast Midwest
Fan Forum / Chat / Nov. 18, 2000
Fan Forum is a new section for the fans of A-Teens. This section will contain stuff you might not know like A-Teens trivia, and interactive additions to C2C Midwest.
Chat - Vote - Links - Email Midwest C2C - Dates
Marie Serneholt: Today, it's "Gimme! Gimme! Gimme!"

Question: Do you guys have AOL?

A*Teens: No, not right now.

Question: How did you tour in Japan go?

Sara Lumholdt: We had a promotion tour earlier. It was hard, but fun.

Question: What is your favorite song to perform live?

Marie Serneholt: All the favorites!

Question: Having traveled to so many countries, what's your favorite?

Amit Paul: I really like New York.

Sara Lumholdt: I really adore the USA. I also really like London.

Dhani Lennevald: I would say New York and LA.

Question: Do you have an official website?

A*Teens: Yes, we have! www.a-teens.com, I think. Or you can do AOL search.

Question: Hey Dhani, Marie, Sara and Amit! I've been a huge fan of yours since July, and you guys are my inspiration and my role models, and I wanna thank you for that. But my question is: what television shows do you enjoy watching over in the USA?

Marie Serneholt: We have a lot of your shows in Sweden.

Question: Did you ever watch "The A-Team"? Which one of you would be Mr. T?

Dhani Lennevald: A long time ago, I think. Who is Mr. T?

Question: Who's your favorite Backstreet Boy?

Sara Lumholdt: Kevin.

Marie Serneholt: Brian.

Dhani Lennevald: Brian and AJ.

Question: Hey, I was wondering what all your inspirations are as singers before you? -- Jewelia

Marie Serneholt: The TV show "Fame" inspired me a lot. They're singing, acting and dancing -- it's great.

Amit Paul: Stevie Wonder.

Sara Lumholdt: Brittney Spears.

Dhani Lennevald: There's so many. I don't know.

Question: How can I go about getting an autographed picture of you guys?

A*Teens: www.fanclub.com -- I think you can get them there.

Question: When did the new album come out?

Marie Serneholt: I think it's only on the radio now. Not in stores yet. February, I think.

MrLiveGuy: They are now singing a capella to all of you, "Mamma Mia"!

MrLiveGuy: Thank you, A*Teens, for chatting with us!

A*Teens: Thank you!

MrLiveGuy: Thanks, everyone, for chatting with A*Teens! And for all of your great questions!

Portions of this transcript may be edited by AOL to correct spelling, punctuation and/or remove any material that violates AOL's Terms of Service.

Copyright 1999 America Online, Inc. All Rights Reserved.
TRL Website- http://www.trl.mtv.com
For us American A-Teens fans go to the MTV TRL website and vote "Dancing Queen" in the top 10 or at least make it a close call.