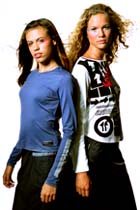 Coast2Coast Midwest
Fan Forum / Chat / Jul. 7, 00
Fan Forum is a new section for the fans of A-Teens. This section will contain stuff you might not know like A-Teens trivia, and interactive additions to C2C Midwest.
Chat - Vote - Links - Email Midwest C2C - Dates
OnlineHost: A*Teens debuted with the single "Mamma Mia" in the summer of 1999. The four members of A*Teens are in their mid-teens and all from Stockholm, Sweden. The A*Teens are Marie Serneholt, Sara Lumhokit, Dhani Lennevald and Amit Paul.

AOLiveMC2: Welcome A*Teens to AOL Live. Let's start with the questions.

Question: Hey, A*Teens, I wanted to ask ya something, and I wanted to know how you guys got together?

Sara Lumhokit: We met about six years ago, and we danced together at the same dance schools. And one day there was a guy who was putting up an audition, and we went there together... we're really good friends. And then they picked us out on the audition.

Question: I love your song "Dancing Queen." When is your next video going to come out?

Sara Lumhokit: Thank you! I don't know when it's coming out. We have nothing planned yet, but we're starting to think about it.

Question: Hi! I was wondering if you like the fact that you are being compared to ABBA?

Sara Lumhokit: We don't really see us comparable to ABBA. We do their songs, but in the new version. But we don't mind the people comparing us to ABBA.

Question: How did you get started remaking ABBA songs, and why?

Sara Lumhokit: It was a guy on the record company that came up with the idea of teenage groups doing songs from ABBA in the new form. And the audition was in November of 1998.

Question: Hi, I am a BIG fan of you guys 'cause when I was little, my mom used to play ABBA songs and I LOVED them. And I was wondering, had all of you guys listened to ABBA and liked them before you started the group?

Sara Lumhokit: We all got to know ABBA's music through our parents and through our classes in schools and all our friends, and we really like their music, but we're not really fans. It's really hard to be fans when you haven't seen them perform live.

Question: What was your favorite song recording?

Marie Serneholt: On this album, I think it was "Mamma Mia," because it was the first song we recorded and we knew it best. It was really fun.

Question: Do you think the '70s sound is superior to the music of today?

Marie Serneholt: It's so different. I'm so used to this '90s music, but I find '70s music really fun. It's great party music. I can't really compare the '70s music to today's, but I think they're both really good in their own ways.

Question: Did you ever dream you would be as popular as you are today?

Marie Serneholt: No, never! I had a dream that I was doing the things I'm doing today. I dreamt of being an actress when I was little, and then I was acting, but then I was singing and dancing... I feel very blessed. I'm very happy, and I never thought I'd be as popular as I am today. It's really AMAZING!

Question: I love your song "Dancing Queen." Anyways, who is your inspiration?

Marie Serneholt: My inspiration... I don't know. I guess it would be... hmmm, that's a hard question. My dreams inspire me. That's a really hard question. I think it's my dreams that do inspire me... they keep me going.

Question: Were you shy at first when you started?

Marie Serneholt: I have never been shy. I'm very open and been able to talk to people, so I haven't been shy. But I can be shy -- but I'm not shy, shy! :)

Question: Is there any part of your career you don't like?

Marie Serneholt: No! I don't have any part that I don't like. It's hard to be away from your friends and family, but I don't see anything negative in it. Maybe, when you meet new people, it's hard sometimes... when you're 18 and they want to get to know you.

Question: What is the strangest thing that a fan has done to you or has given to you?

Marie Serneholt: LOL. Hmmmmm... a guy from the northern part of Sweden drove to my house to give me presents and stuff. And also, once when I was on stage, a guy threw up an envelope with a letter and stuff, and $10, and I opened it and thought, hmmm... what do you want me to do with this?! :)

Question: How is the touring going? We can't wait to see you on the third of August.

Marie Serneholt: It's going really well. We've have a really great response from the fans. And it's just been so much fun that the fans know who we are. And they know "Dancing Queen," etc., so I'm having lots of fun.

Question: How did y'all like touring with Britney?

Amit Paul: It's really, really fun. The crowds and this venue is really amazing. We've been traveling with the bus and doing this tour, and it's just been really amazing. It's so great to be able to see and do this thing... it's like a family. It's also the four of us, three dancers, three other people in the bus... so it's really family-like!

Question: I am 27 from Florida, in Georgia right now, want to first say I am amazed by your CD. I am big on ABBA. Did you all get to meet ABBA in the production of this CD?

Amit Paul: Thank you so much, that is nice. No, we didn't get to meet ABBA. We would love to, but with our schedule, it just seems really hard.

Question: Hi, was the guy in the video from "Dancing Queen" (when the girls go in the boys' bathroom)... was he Freddie Prinze Jr.?

Amit Paul: No, he wasn't. He really looks like Freddie, but it wasn't!

OnlineHost: A*Teens had to leave for another previous commitment. They are sorry they were late and could not spend the full 30 minutes with you.

AOLiveMC2: Thank you, A*Teens, for joining us this evening.

Copyright 2000 America Online, Inc. All Rights Reserved.

Portions of this transcript may be edited by AOL to correct spelling, punctuation and/or remove any material that violates AOL's Terms of Service.
TRL Website- http://www.trl.mtv.com
For us American A-Teens fans go to the MTV TRL website and vote "Dancing Queen" in the top 10 or at least make it a close call.