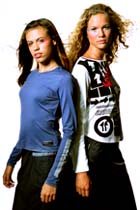 Coast2Coast Midwest
Articles
Place: Yorktown Mall, Lombard, IL
When: March 10, 2000
Size (of crowd): 600
Other Information:
A*Teens in their first shopping mall appearance in America.
During this time "Mamma Mia" was Chicago's number one hit song on the radio and the single was selling numerous copies while "Dancing Queen" the current single was selling at 25 nationwide.
Atferward's they were signing CD's and the crownd was not only young children but as well as high schoolers that ditched (I was one of them.)
Quote: "They're a hip act, with nothing to worry about, in America, there are boy bands and girl solo artists but no mixed groups. The A*Teens have something for everyone."
"Mamma Mia" on its own. The single was released last fall solely to Radio Disney, which
Orescan notes is "like getting the Good Housekeeping Seal of Approval, since they won't play anything objectionable."