Havent seen them recently? Well if you're bumming, go buy the new "Live Record!" Brand-spanking new, it's in stores!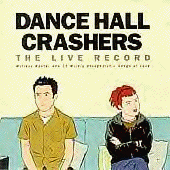 Welcome fans of the Dance Hall Crashers--Biography of DHC.
An outgrowth of the legendary Operation Ivy, the Berkeley, Caifornia-based ska-punk outfit Dance Hall Crashers was briefly led by Tim Armstrong and Matt Freeman, Op Ivy alumni who later reunited in Rancid. Both left within weeks of the Crashers' 1989 formation, but the group continued on, now led by vocalist Elyse Rogers and guitarist Jason Hammon; a series of other lineup changes followed, most notably the addition of second vocalist Karina Denike joining in 1990. Dance Hall Crashers disbanded soon after, bowing to pressure from fans to play a reunion gig in 1992; the response to their performance was so positive that they immediately reformed on a permanent basis, settling on a lineup of Rogers and Denike on vocals, Hammon on guitar, his brother Gavin on drums, guitarist Scott Goodell and bassist Mikey Weiss. The very first group signed to MCA's new 510 division, they issued their debut LP Lockjaw in 1995. A compilation of early singles, The Old Record, followed in 1996 before they resurfaced a year later with their second studio album, Honey I'm Homely. A steady stream of releases followed, including 1998's Blue Plate Special EP, the 1999 studio effort Purr, and 2000's The Live Record: Witless Banter and 25 Mildly Antagonistic Songs About Love.