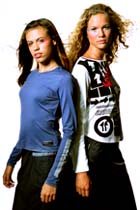 Coast2Coast Midwest
Fan Forum
Fan Forum is a new section for the fans of A-Teens. This section will contain stuff you might not know like A-Teens trivia, and interactive additions to C2C Midwest.
Chat - Vote - Links - Email Midwest C2C - Dates

TRL Website- http://www.trl.mtv.com
For us American A-Teens fans go to the MTV TRL website and vote "Dancing Queen" in the top 10 or at least make it a close call.